Best of the Best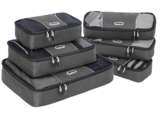 Stands out from the rest by offering quality features and material that's made to last.
Lightweight. Made of extremely strong nylon. Manufacturer provides lifetime guarantee.
Pricey, but you're paying for quality construction and durability.
Best Bang for the Buck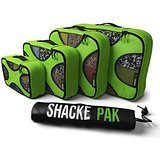 In spite of the budget price, you get good quality and a satisfaction guarantee from the company.
Rugged construction (including top-notch zippers), ample space, lightweight design. Available in six bright colors. Includes a laundry bag.
Mesh sections aren't big enough to allow a good view of contents, but that's a small concern for these top-selling cubes.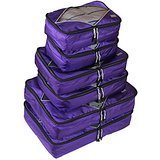 Rusoji
6pc Various Size Set
A solid choice for consumers who need a six-piece set.
Large mesh section lets you see what's inside. Our largest set (six pieces). Lightweight, spacious, and available in four colors.
Material is not as waterproof as others we tested.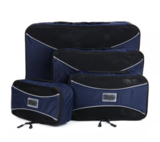 PRO Packing Cubes
4 Piece Travel Value Set
The warranty might be attractive to some consumers, but it leaves something to be desired in terms of quality.
Sturdy corded pulls. Extremely light. Available in five colors. Manufacturer provides lifetime warranty.
The depth is more shallow than that of similar cubes we reviewed.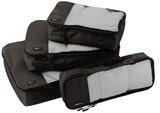 AmazonBasics
4-Piece Packing Cube Set
If you need a set of packing cubes in matching medium sizes, this is the best choice.
Soft yet strong polyester. Large mesh top allows user to identify contents. Comes in six colors. Double-zipper pulls for secure opening and closing.
The zippers are not as durable as the other models we tested.